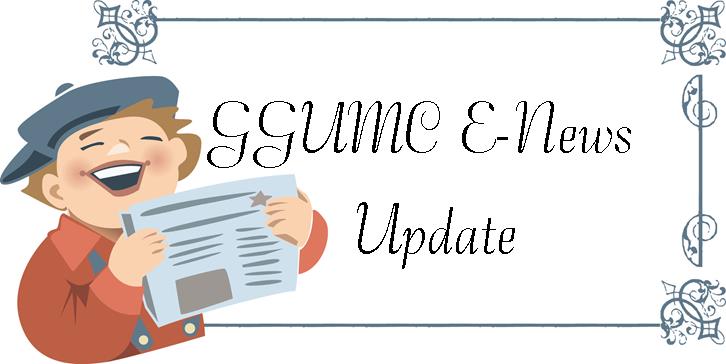 Sunday, July 17th
9:30 a.m.

– 

Rev. Lui Tran 's sermon will be "Choosing What Is Better"using the Scripture Luke 10:38-42.
11:00 a.m. – Contemporary Worship

in the Chapel.

7:30 p.m. – Vietnamese Worship

in the Chapel.
 Announcements
Maynard Hall, a longtime member, is in the hospital after a stroke last Sunday and Sharron Akins, a longtime former member, is also in the hospital in Portland, after a stroke on Monday.  For up to date information on Sharron's condition, please contact Sally May, 714-655-4055, or Sally Hickman, 714-839-0120 (home) or 714-376-8391 (cell).  Cards & notes can be sent to Sharron at 2245 SW Troy St., Portland, OR 97219-2657.
Virginia Nash's Funeral service information is at the bottom of the update.
The deadline for the August issue (to be mailed Thursday, July 28th) of Expectations is 12:00 noon on Tuesday, July 19th.  Any events occurring in August and September should be in this issue.  You may E-mail articles to exp@ggumc.net, bring them to the Church Office, mail them, or (if they are short) call them in, on or before the deadline.  Janine Ryder, Editor
Remember to look for the clipboard, on the counter in the office next to the Flower Calendar book, to sign up to be a Sunday Greeter!  We need greeters for July 24th and 31st!  You can call the Church Office, 714-534-1070, to sign up to greet as well.
Coming Events
Wednesday, July 20th, 10:30 a.m. –United Methodist Women's Ladies Day Out.  We will be visiting the Hilbert Museum of 20thCentury California Art in Orange.  We will have lunch at Ruby's at the train station (which is across the street from the museum).  The cost of this day out is your lunch at Ruby's.  We will meet at church at the above time and car pool to the museum.  If you plan on attending, please let Sue Spangler or Sally Hickman know so we can plan on transportation.  All Ladies of the Church are invited!
Summer Event for Kids
Monday-Friday, July 25th-29th – Vacation Bible School: Surf Shack: Catch the Wave of God's Amazing Love. Ages: Completed Kindergarten through entering 6th grade.  Flyer/Registration forms are available in the Church Office.
Sunday-Saturday, July 17th-23rd – Jr. High Camp @ Lazy W
Sunday-Saturday, July 24th-30th – Sr. High Camp @ Lazy W
Friday-Saturday, August 5th-6th – Overnighter at Anaheim UMC
Meetings
Wednesday, July 20

th

, 6:30 p.m. – Finance Committee Meeting

in the Lounge.
Wednesday, July 27th, 6:30 p.m. – Church Council Meeting in the Lounge.
Virginia Nash died on Tuesday, July 5th.  A Funeral Service will be held on Saturday, July 23rd at 10:00 a.m. in the Sanctuary.  A reception will follow in Acker Hall.  Virginia's family has asked that in lieu of flowers that donations be made to the

operating budget of the

Garden Grove United Methodist Church.